Loading...
trail-creek-crossings-condo-c204
Trail Creek Crossings Condo C204 Details | Ketchum Vacation Rental
Trail Creek Crossings - Upscale Condo Close to Downtown Ketchum
First Bedroom - Queen
Second Bedroom - Queen
Den - Two Twins

This 2-bedroom plus den/3-bath condominium is conveniently located just south of downtown Ketchum on Trail Creek. It has spacious rooms with fine finishes of natural stone, tile and hardwood floors. At 2,369 square feet, this condominium will accommodate 4-6 guests. Amenities include wireless internet access, ample storage space, central A/C and elevator access from the heated underground garage with one parking space. 7 NIGHT MIN STAY.

The entry is on the first floor which has two master suites with queen beds, 40-inch flat screen TV's, ensuite baths with dual vanities and large closets. One of the bathrooms has a separate jetted bathtub. The floors have radiant heat. A laundry room with full size washer and dryer is also on this level.

On the second level is a spacious great room with Cathedral ceilings, gas burning fireplace, huge windows and a deck with Baldy Mountain and Trail Creek views. There is also a 50-inch flat screen TV and DVD player with Bose sound system. This room is combined with a beautiful dining area that seats six comfortably. From the dining room, there is access to another deck with BBQ grill. The open kitchen has granite counter-tops, stainless appliances, gas range and alder cabinets. Also on this level is the den that can provide additional sleeping with two twin day beds. This level also offers a full bath with a shower. This unit does not have a phone.

Complex Features: Trail Creek Condominiums, with over 420 feet of frontage on tranquil Trail Creek, are located approximately three blocks from downtown Ketchum and approximately 3/4 mile from the River Run ski lifts. This complex offers peaceful escape yet has easy access to entertainment, dining and outdoor recreation. The complex has an inviting residential lobby with fireplace, bookcases, artwork and comfortable seating. You will have controlled access to the main entry and two elevators for convenient access to homes from the parking garage. There is a free shuttle that will transport you to both ski lifts on Bald Mountain, downtown Ketchum, and the Sun Valley Resort.

Please note: This home has a minimum stay of 7 nights. If you stay doesn't meet this requirement, please contact our office for options. We will make every effort to ensure that you get the exact property you request. If circumstances beyond our control prevent us from honoring your specific request, we will transfer your reservation to a comparable or upgraded unit. THIS UNIT IS NOT PET FRIENDLY. NO DOGS ALLOWED AT ALL, EVER.
Geographic: Close to Town
Bed Type: Sleep Sofa/Futon
Thank you for entering your review. The review will become available to the system shortly.
Amazing
Rating:
My family and I really enjoyed this place and I would highly recommend it to anyone planning a visit to Sun Valley. It exceeded our expectations in every way, and we've stayed in some of the nicest resorts across the Country. The condo and building are all high-end finishes, and it's well furnished, decorated, and maintained. The pics don't do it justice. I wish I had the owners' info so I could send them a thank you card for letting us stay in their awesome getaway and compliment them on a job well done.
The building itself was also very quiet, we were there for a week and didn't see or here another person. The underground parking garage is convenient as well and had no problem fitting a Suburban. Kitchen has everything you could ever need, we made dinner a few nights after a long day on the slopes and being too tired to go out...the Atkinson's Market is very close and is better than Whole Foods.
No one wanted to leave at the end of the week, we had a great time in Sun Valley and this place made it even better. Without question, if we plan to come back to Sun Valley we're 100% staying here.
A beautiful condo in a great location!
Rating:
We were visiting SV for a family wedding, and discovered this charming condo close by. The condo itself is beautiful, well maintained, and very clean, and the location is absolutely stunning. We would unquestionably stay here again if in SV.
Beautiful Place
Rating:
Nothing to the answers below.
High quality rental company
Rating:
The condo was immaculate, very impressed with the management overall. very responsive. kitchen was very well stocked. seriously, this place was spotless.
Awesome!
Rating:
What a super relaxing and comfy space! No downfalls whatsoever. So nice to be by the creek and walking distance to town. Took a while for the unit to be ready on check in day.
Sun Valley at its Best !
Rating:
We absolutely loved our stay and the unit is even more beautiful than the pictures show ! Also walking into town is awesome ; yet it was so great to be staying off Main Street tucked away in the trees ! We will absolutely stay here again!
The very best
Rating:
The moment we walked in.....wow! Although the photos make it look wonderful, they still do not do it justice. The owners have thought of is so well-equipped. The location is fabulous, right in town by the Limelight, where we have previously stayed many times. Although it is so centrally located, you still have the charming feature of being alongside the rushing creek which provides for a somewhat rural setting with Baldy in the background. My son took advantage of the complimentary bike which he rode to the gym everyday. We appreciated the discounted YMCA passes offered by Alpine Lodging. We will definitely be back to this elegant rental!
Creekside
Rating:
Beautiful condominium. Conveniently located to both central Ketchum and the River Run base (both less than 1 mile). Easy check in. Unit is sort of oddly layed out but very usable. Two bedrooms w en-suite nice baths downstairs and a closable room upstairs with two twin beds. Kitchen and equipment were excellent. Nice views and furniture. Only downside is that it takes a key fob to get into anything and anywhere in the building, which I understand for safety purposes, but they only provide one with the rental, which means you cannot split up your party easily if doing different things because they cannot get back into the building.
Trail Creek Crossings Unit C 204
Rating:
Excellent location walking distance to all the great amenities in Downtown Ketchum. In the winter you are about a 3 minute drive to the lifts at River Run and in the summer you're a stone's throw from the great bike path system. We spend a lot of time in Ketchum in both seasons and this is the best place we've stayed at. The unit has views of Baldy and Trail Creek. Very kid friendly place (we have a 2 year old and 4 year old). Our family loves to cook and the open kitchen was not only beautiful, but very well equipped. Garage parking in the winter is a plus too! Will certainly stay here again!
Fall in Sun Valley, near town
Rating:
This place was awesome. New and beautiful furniture, art and decor, and appliances, tastefully done. The highway noise did not bother us and at least for now the large construction site just to the north was inactive. With trees off the leaves there were nice views back on Baldy from the deck, and it is an easy walk into the town center. The gas fireplace was great, easy to operate and quickly warmed the room. The bedrooms had high-end bedding and ample ensuite bathrooms. The two bedrooms and laundry room are on the lower floor fairly away from the kitchen and living room, a layout that we liked but a little different, but it allows for sleepers not to be disturbed. The bedrooms have sliding glass doors that open to an outside common walkway, so potentially some privacy issues but we never saw anyone out there and we just kept our drapes closed. Easy parking in underground garage.
The perfect honeymoon get away!
Rating:
Everything about this vacation home exceeded our expectations. So much thought went into every detail to ensure the comfort of their guests. We had planned to go out to dinner, but the kitchen was lovely, and so well appointed that we ended up cooking every meal at the rental. The view from the upstairs living area was spectacular during the third week of October. The aspens were gold and glowing and the air was fresh and delightful! The rental is close to everything yet provides privacy that we appreciated greatly. It was a wonderful homebase during our stay in Ketchum. We will be back during ski season! Thank you for your hospitality!
Your request has been sent. We look forward to meeting all your vacation needs!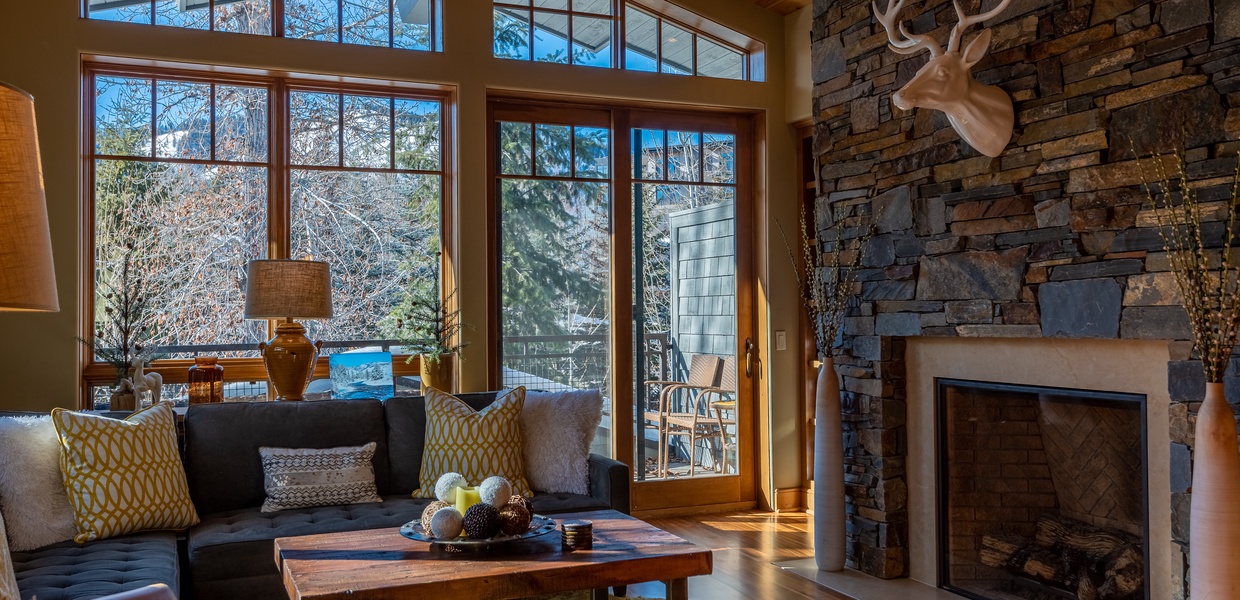 Living Room
Dining Area
Master Bedroom
Deck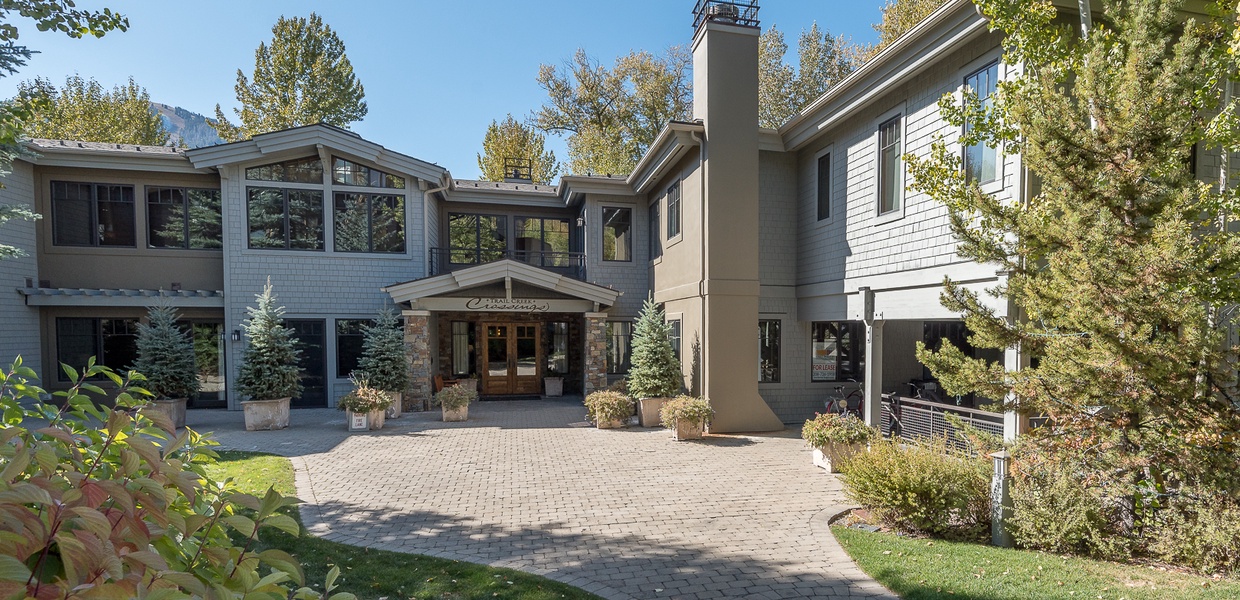 Autumn Exterior
Living Room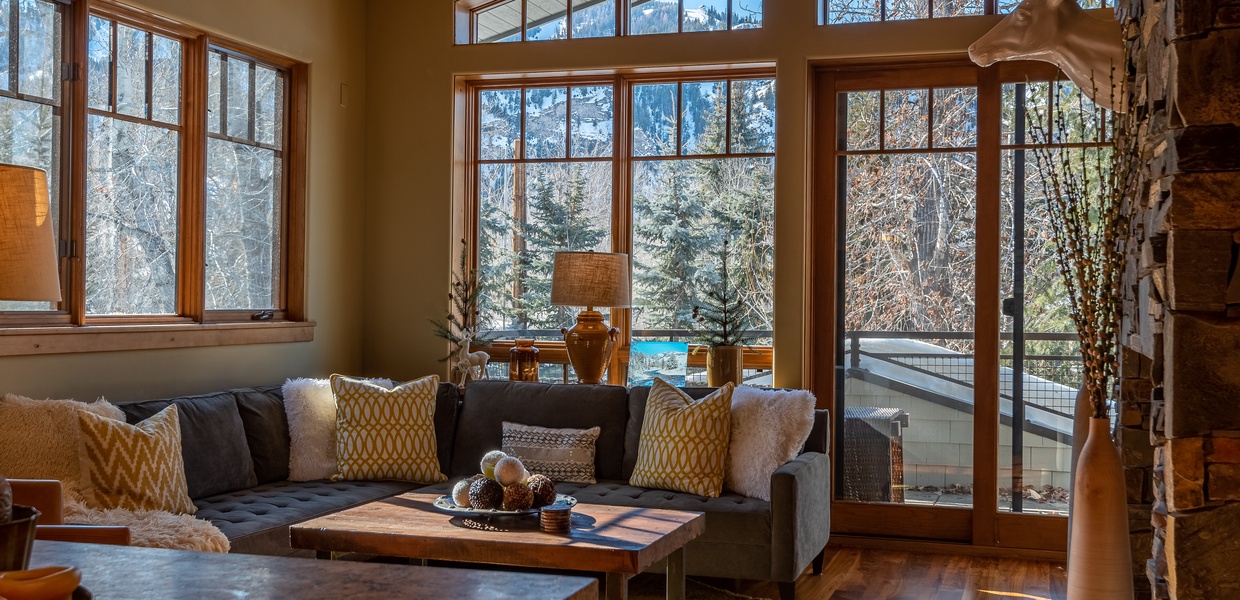 Living Room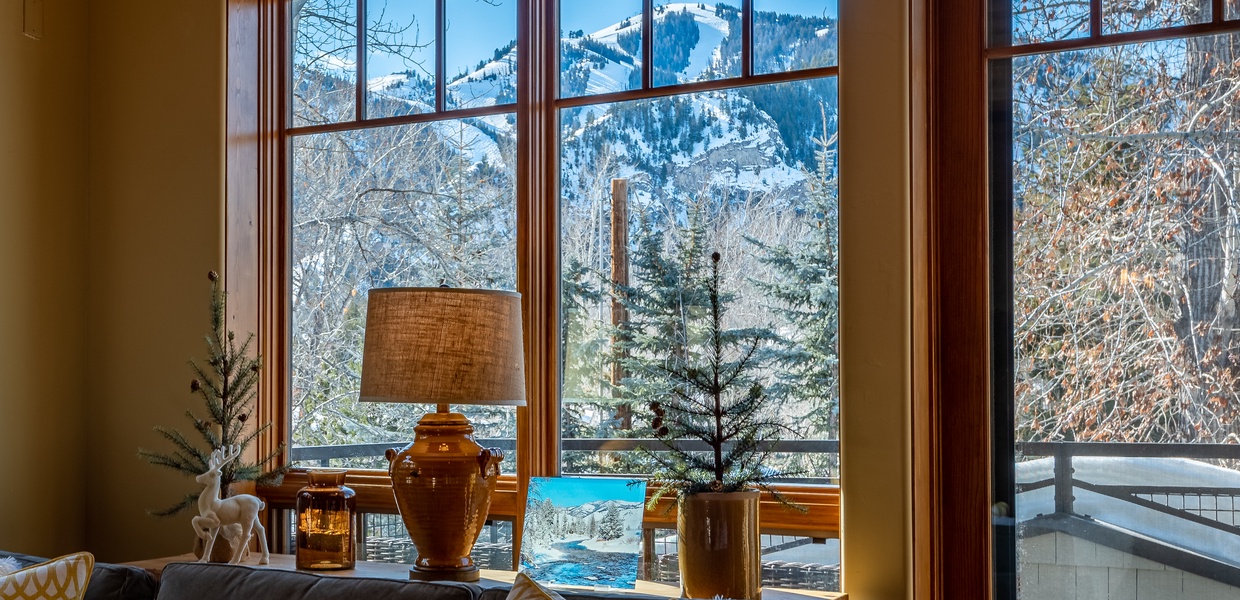 Living Room Bald Mt Views
Dining Area
Den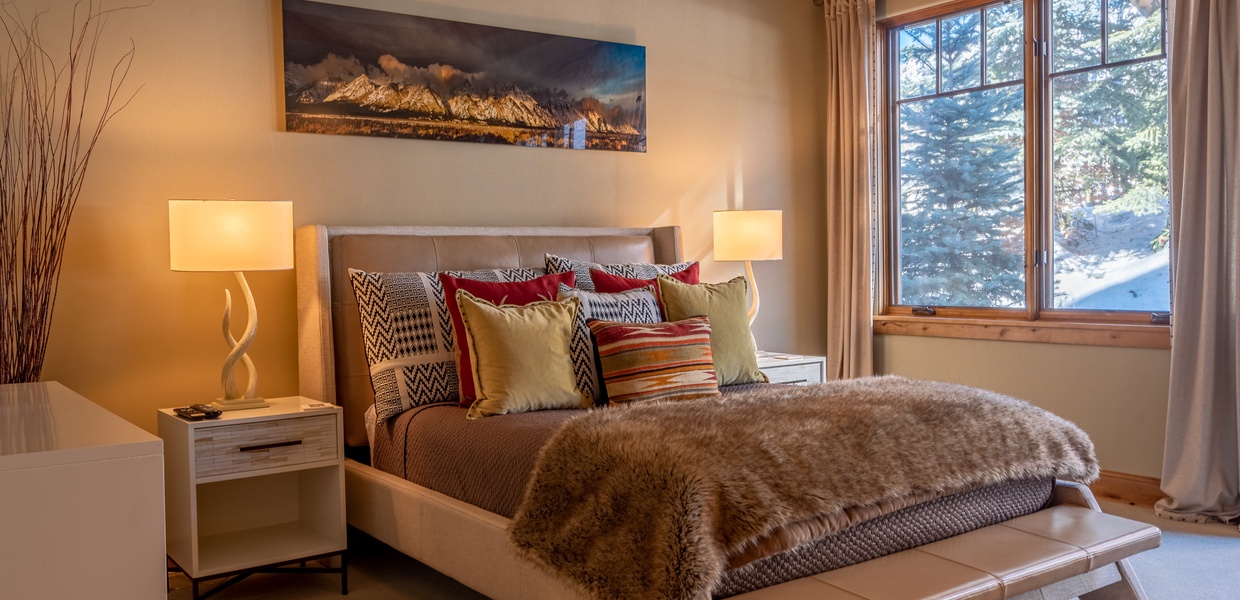 Master Bedroom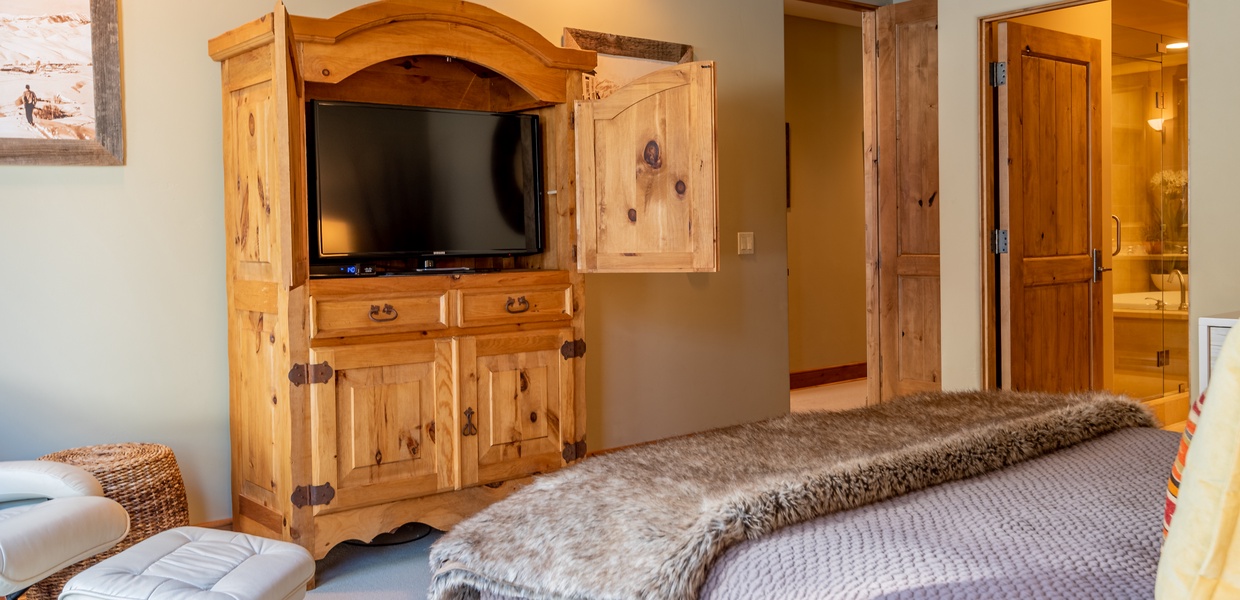 Master Bedroom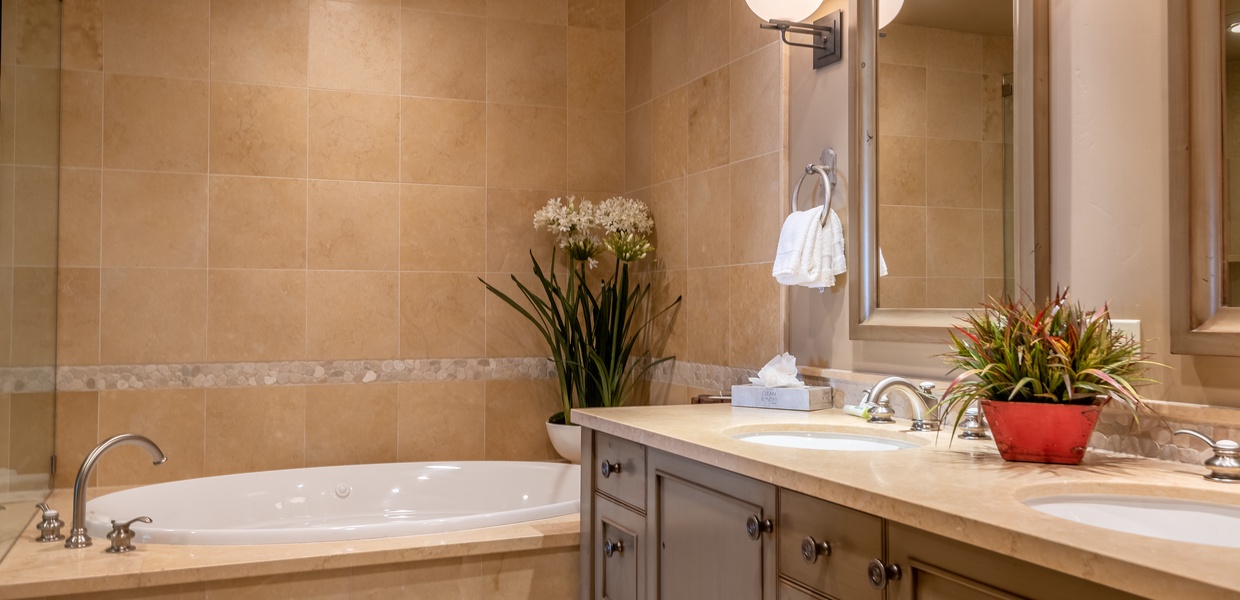 Master Bathroom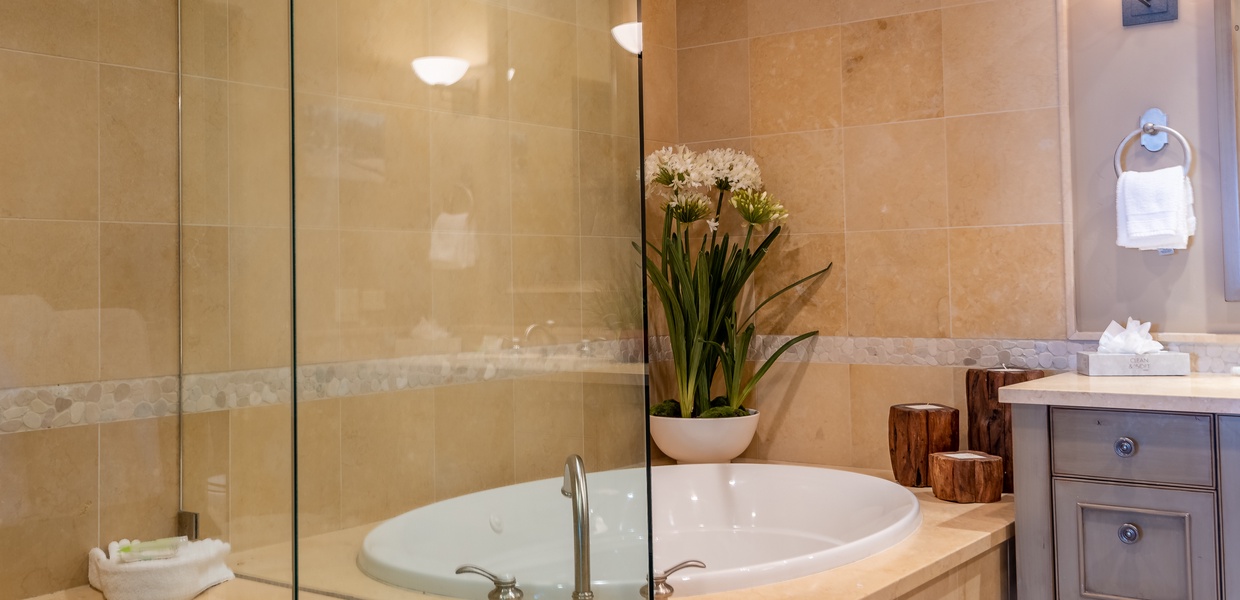 Master Bathroom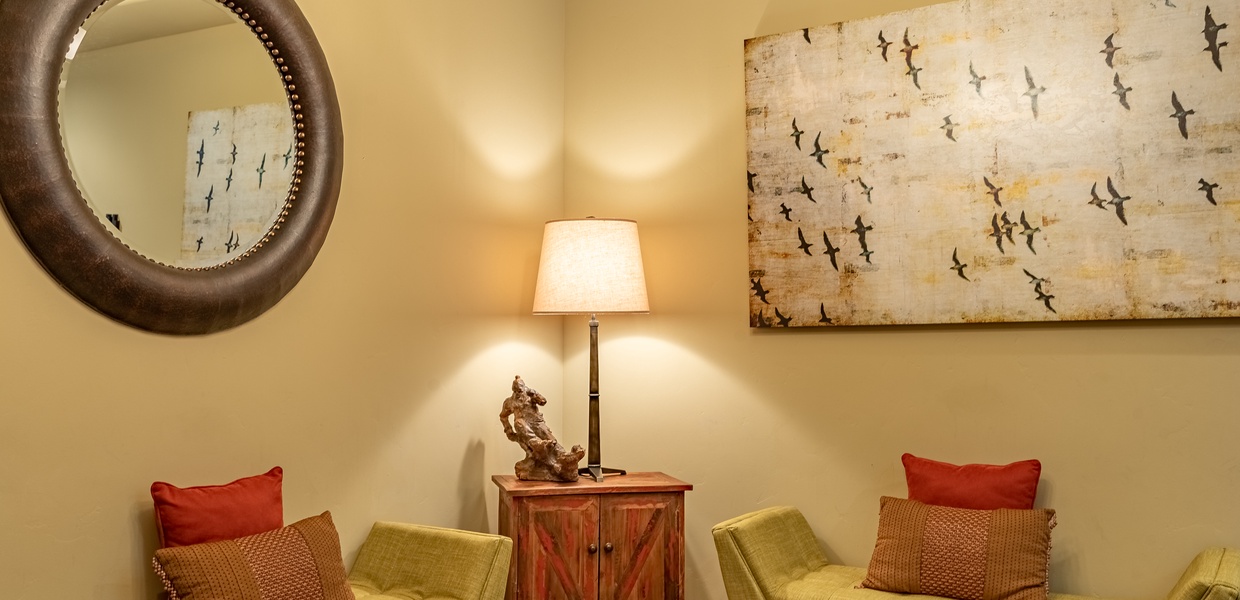 Sitting Area
Second Bedroom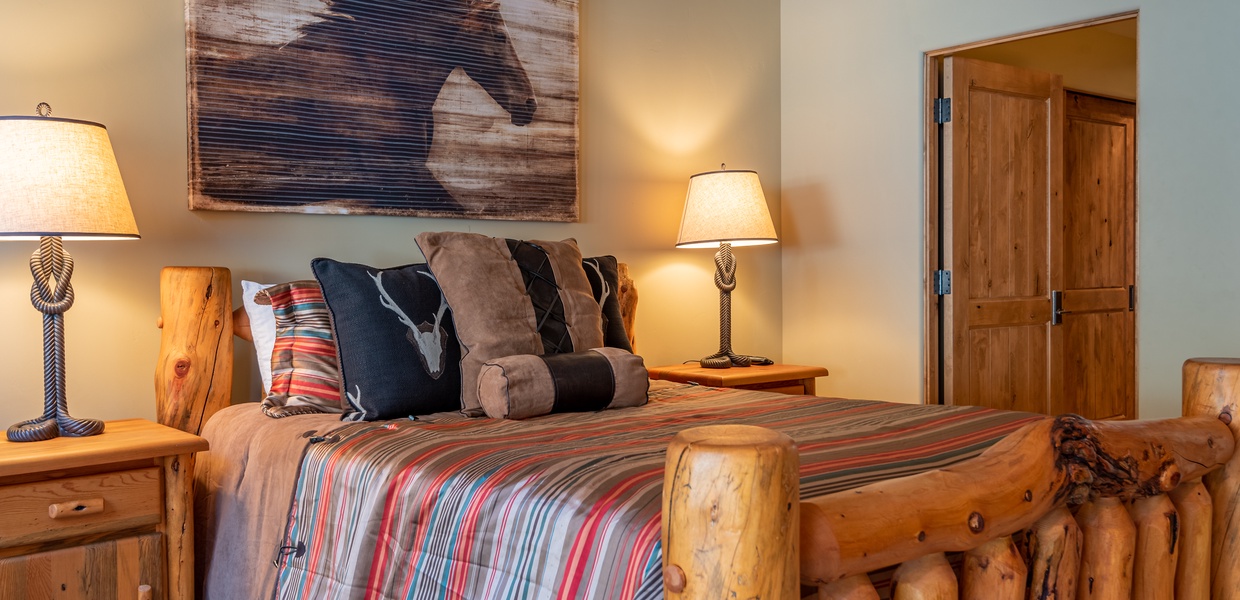 Second Bedroom
Second Bathroom
Second Bathroom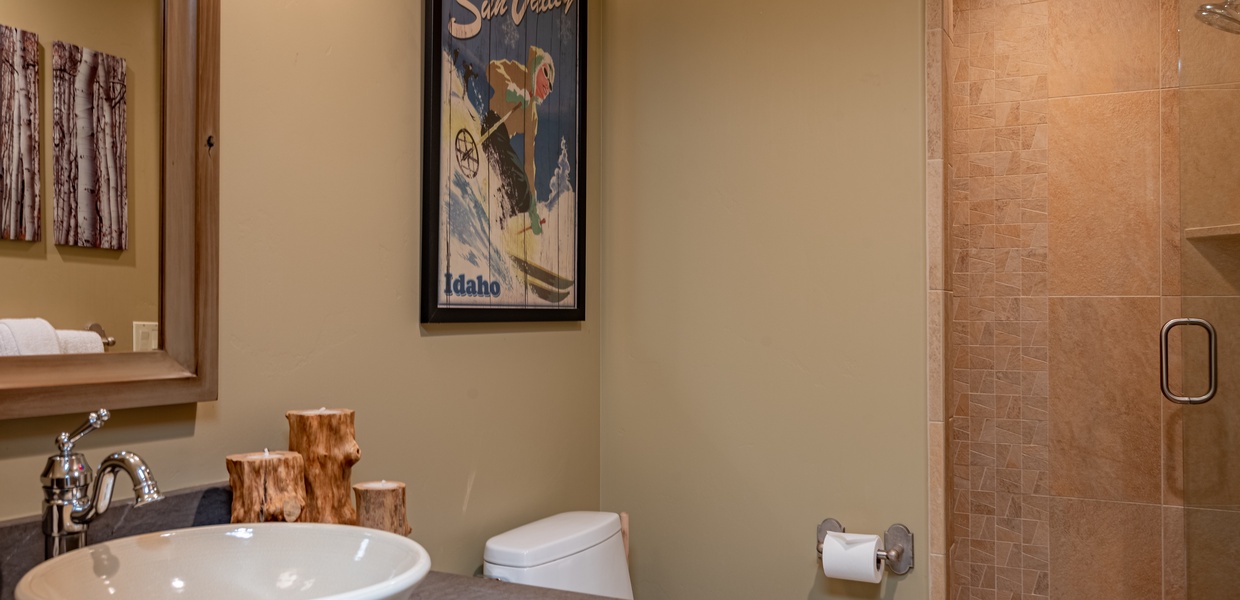 Third Bathroom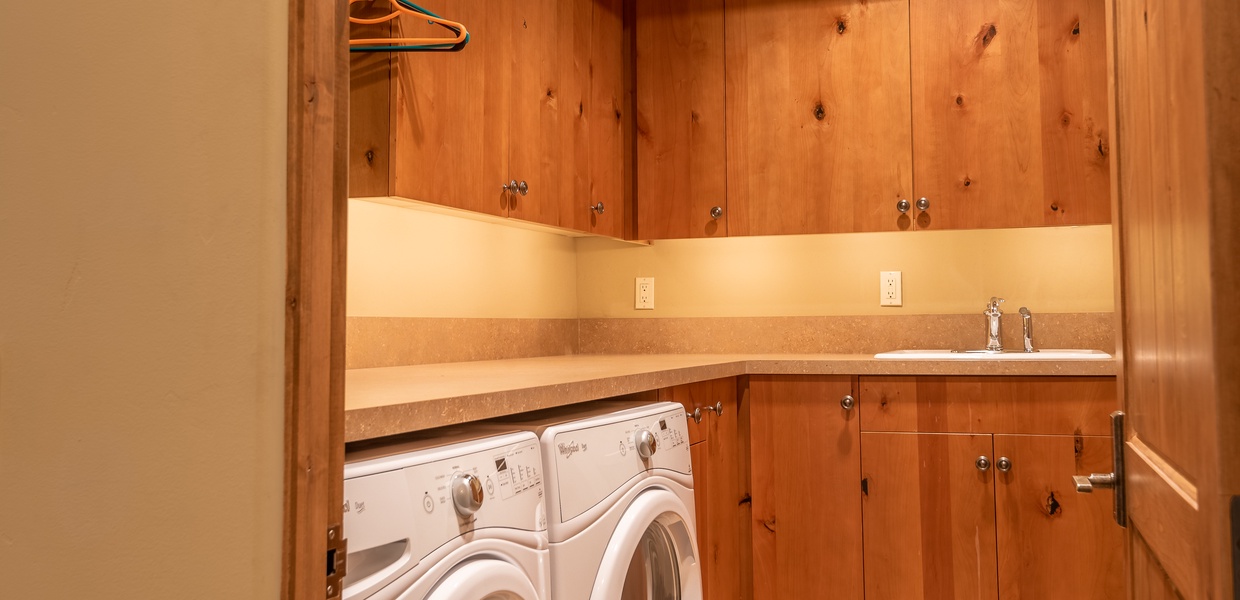 Laundry Room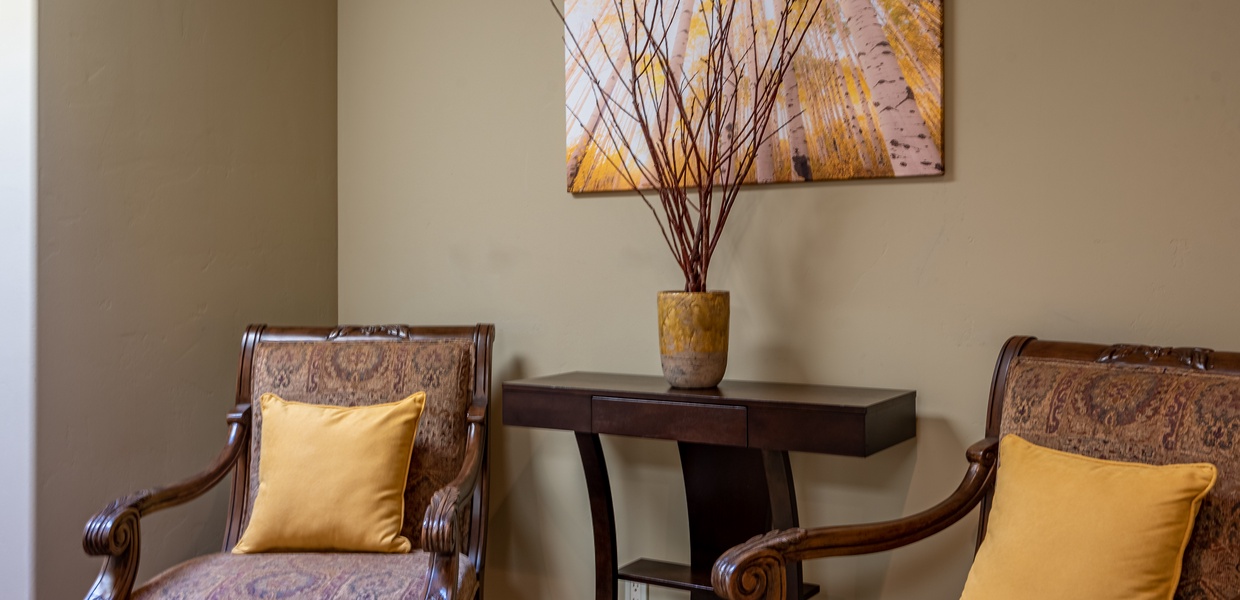 Sitting Area Near Entry
Sitting Area Near Entry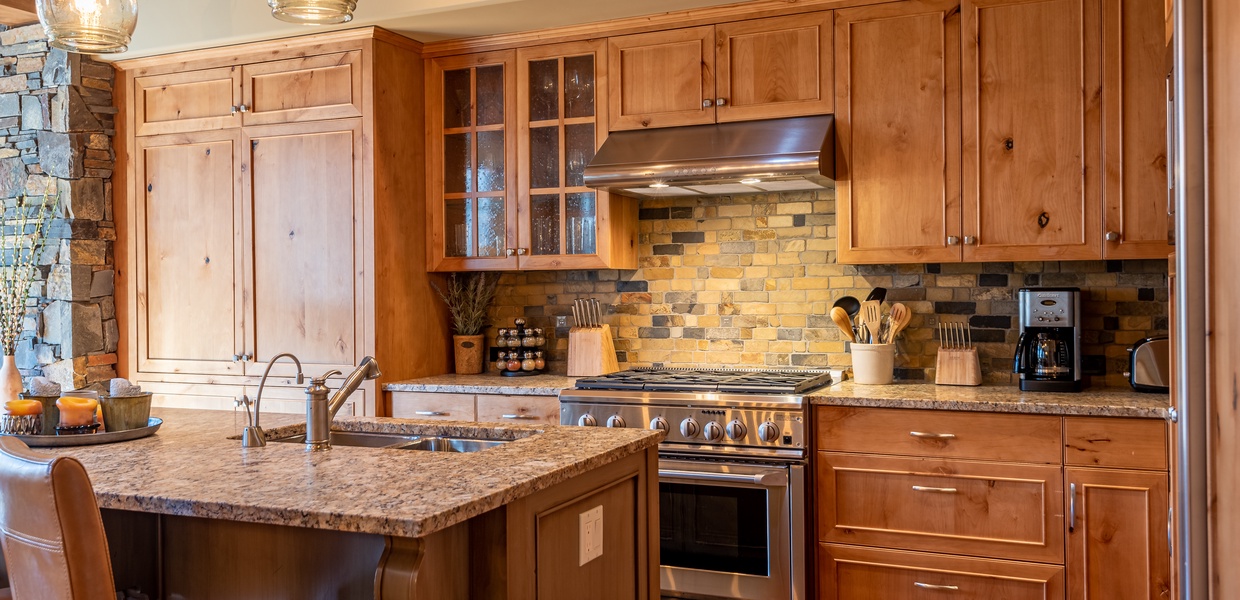 Kitchen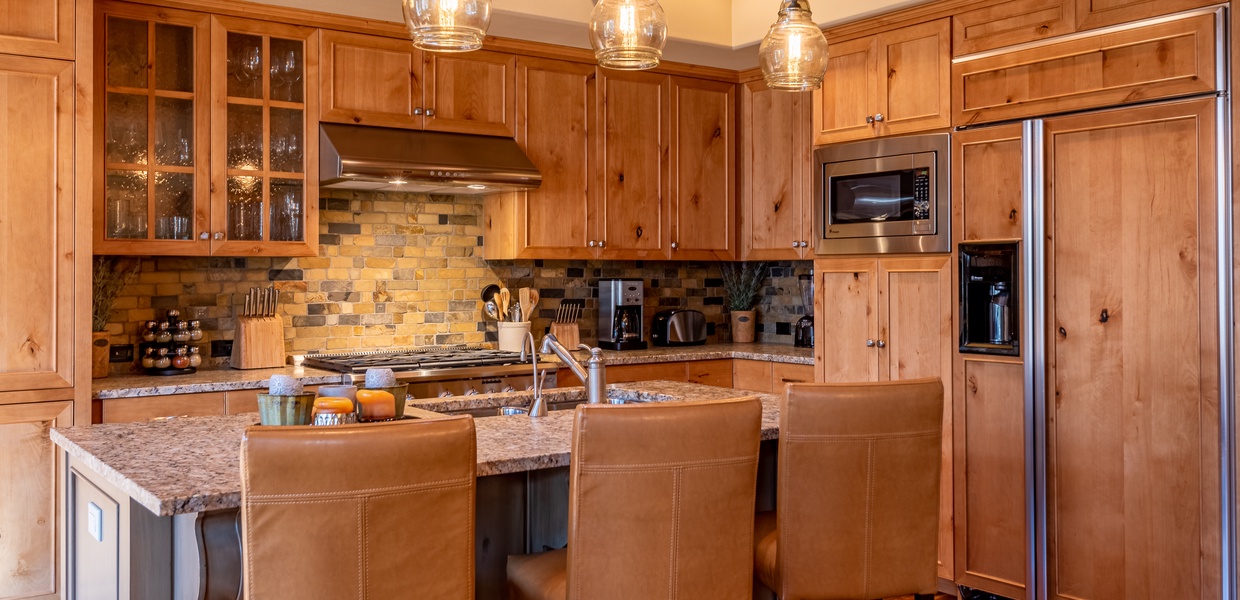 Kitchen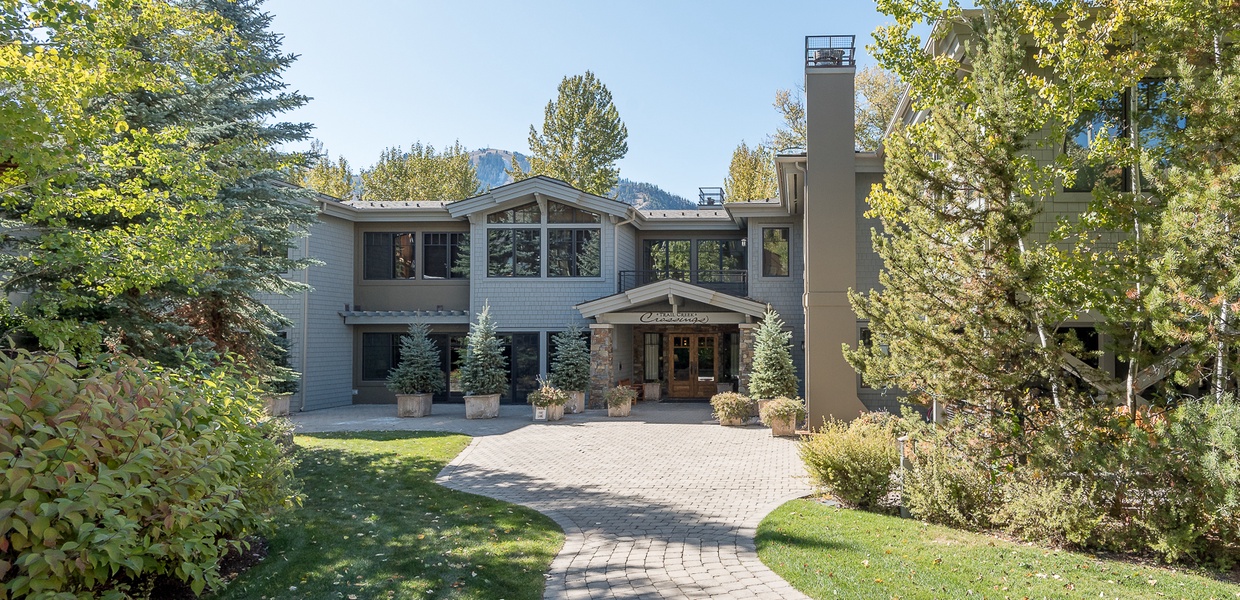 Autumn Exterior
Autumn Exterior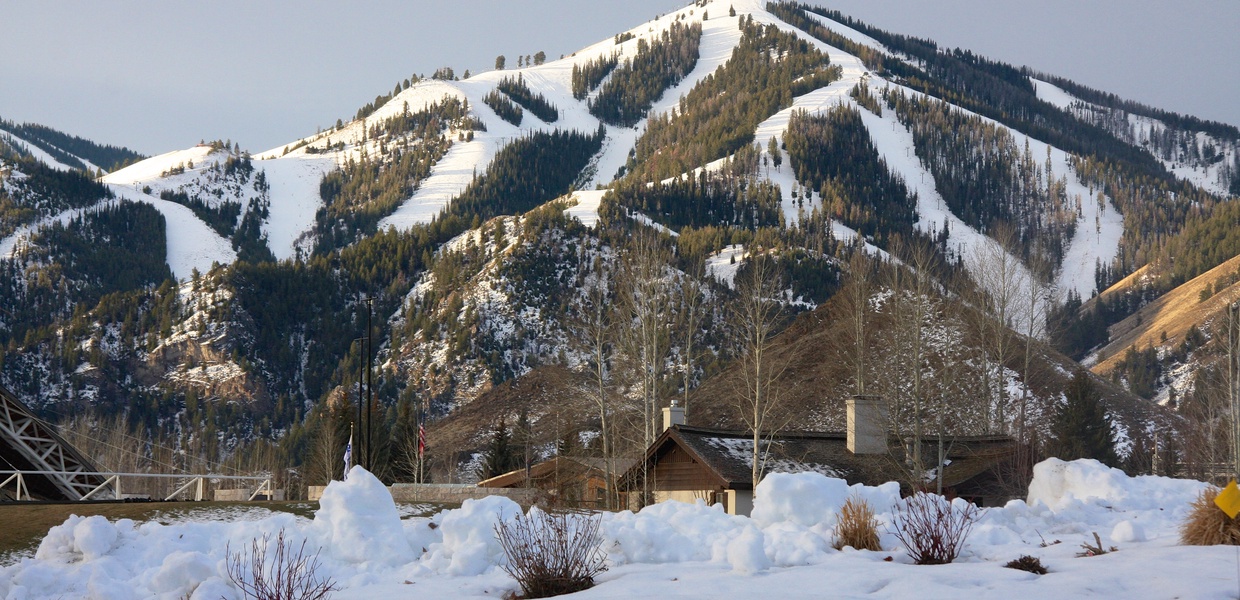 Bald Mountain